Series 1 & 2 of
The Young Ones
have both been released on DVD individually and in a special edition boxset in both regions 2 & 4. Region 1 has released just two boxsets, one being just series 1 & 2, the other being series 1 & 2 special edition.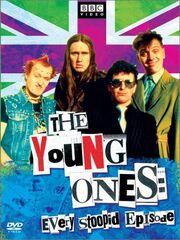 Only the U.S.
Every Stoopid Episode
edition featured documentaries and no extra footage was included. Musical references proved difficult to clear so "
The Sounds of Silence
" (one line) and "
Subterranean Homesick Blues
" were excised from the U.S. editions. A "bloopers" tape made for the amusement of cast and crew has, according to a BBC employee, gone missing from the BBC archives.
A new DVD release of all episodes ("Extra Stoopid Edition") was launched in November, 2007, containing new documentaries and two commentary tracks (pilot and final episodes only). This edition restores the line from "The Sound of Silence" and the performance of "Subterranean Homesick Blues".
The UK 25th Anniversary box set also features documentaries and claims to have the full uncut episodes.
Ad blocker interference detected!
Wikia is a free-to-use site that makes money from advertising. We have a modified experience for viewers using ad blockers

Wikia is not accessible if you've made further modifications. Remove the custom ad blocker rule(s) and the page will load as expected.